Last Updated: 06/06/22
Precision Medicine Trials
The CDP has been instrumental in the implementation of two of NCI's current precision medicine trials: NCI-MATCH (Molecular Analysis for Therapy Choice) and NCI-COG Pediatric MATCH, by creating a network of laboratories that identify potentially eligible cases for the NCI-MATCH trial using centrally vetted next generation DNA sequencing assays being conducted in the context of clinical care.
Both MATCH studies are supported by the NCI-sponsored National Clinical Trials Network (NCTN).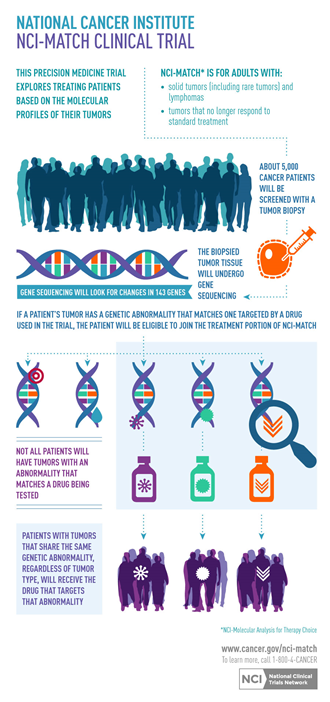 CDP and the ECOG-ACRIN Cancer Research Group

, are leading the NCI-MATCH trial, with assistance from DCTD's Cancer Therapy Evaluation Program (CTEP), Biometrics Research Program (BRP), and additional committees.
NCI-MATCH (Molecular Analysis for Therapy Choice)
NCI-MATCH is considered the largest precision medicine trial in history, with the goal of determining the effectiveness of treating tumors based on matching a molecular targeted agent to a specific genetic abnormality of the tumor, regardless of their tumor type. The study assigns patients with solid tumors, myeloma, or lymphoma who have progressed on standard therapy to receive treatment based on the genetic changes found in their tumors through genomic sequencing and other tests performed at NCI-MATCH Designated Laboratories.
The NCI-MATCH Designated Laboratory Network consists of commercial and academic laboratories that are selected by an NCI-MATCH committee that evaluates each group with quality metrics for concordance with our central assay; all laboratories operate under the Clinical Laboratory Improvement Amendments (CLIA) standards to molecularly profile patients' tumors in the clinical setting.
The NCI-MATCH trial is enrolling patients at nearly 1100 cancer centers and community hospitals in every state, the District of Columbia, and Puerto Rico.
See the following publication for more information on NCI-MATCH:
Molecular Landscape and Actionable Alterations in a Genomically Guided Cancer Clinical Trial: National Cancer Institute Molecular Analysis for Therapy Choice (NCI-MATCH).
Flaherty KT, Gray RJ, Chen AP, Li S, McShane LM, Patton D, Hamilton SR, Williams PM, Iafrate AJ, Sklar J, Mitchell EP, Harris LN, Takebe N, Sims DJ, Coffey B, Fu T, Routbort M, Zwiebel JA, Rubinstein LV, Little RF, Arteaga CL, Comis R, Abrams JS, O'Dwyer PJ, Conley BA; NCI-MATCH team.
J Clin Oncol. 2020;38(33):3883-3894. doi:10.1200/JCO.19.03010
Visit the ECOG-ACRIN site here

to see a list of NCI-MATCH findings and publications.
NCI-COG Pediatric MATCH
NCI-COG Pediatric MATCH is a phase 2 clinical trial developed and being led jointly by NCI and the Children's Oncology Group (COG), enrolling children and adolescents with advanced solid tumors-including non-Hodgkin lymphomas, brain tumors, and histiocytosis that have not responded to treatment or have progressed on standard therapy.
Like the NCI-MATCH trial, participants in the NCI-COG Pediatric MATCH trial are assigned to treatment arms based on the detection of certain genetic abnormalities using tumor DNA sequencing. Additionally, NCI-COG Pediatric MATCH patients undergo germline testing on DNA from peripheral blood to determine if the genetic variants may be present in the blood that might be hereditary. This information can help oncologists advise families about genetic testing, genetic counseling, and follow-up care for the patient and other family members.
The trial is taking place at around 200 participating children's hospitals, university medical centers, and cancer centers across the U.S. that are part of COG.