Last Updated: 08/16/21
Molecular Characterization Laboratory (MoCha)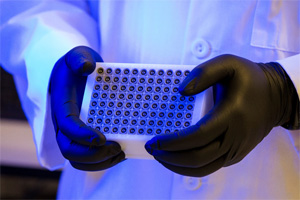 The CDP works closely with the MoCha Lab staff at the Frederick National Laboratory for Cancer Research (FNLCR) as it provides instrumental support to DCTD for many initiatives.
MoCha provides genomic characterization of biospecimens obtained from patients with cancer in DCTD-supported clinical trials, for example:
NCI-MATCH
NCI-COG Pediatric MATCH
Experimental Therapeutics Clinical Trials Network trials through the National Clinical Laboratory Network (NCLN)
Core genomic assays supported by the MoCha include whole exome sequencing, RNA sequencing, the TSO500 ctDNA assay for liquid biopsies and several targeted gene panels profiling cancer-related genes. MoCha is additionally developing expertise in single-cell RNA sequencing, T cell receptor sequencing and other emerging genomic technologies.
The MoCha Lab, drawing on their extensive experience with assay harmonization and clinical assay development, has supported and advised CIMAC-CIDC investigators in their efforts to improve patient care by optimizing immunotherapeutic strategies through biomarker identification. It is also helping to lead the Molecular Diagnostics Network, which is developing a network of CLIA accredited laboratories that will provide molecular assays to support three large NCI-supported precision medicine trials under development.
Tumor Mutational Burden (TMB) Harmonization Project
Tumor mutational burden (TMB), a measure of the number of somatic mutations in a tumor, has recently been approved as a predictive biomarker for the immune checkpoint inhibitor pembrolizumab. With the TMB Harmonization Project, Friends of Cancer Research

(Friends) organized a consortium of key stakeholders to recommend best practices for TMB measurement and reporting, in order to foster a synchronized approach for validation and clinical use among researchers.
In Phase I of the TMB Harmonization project, the consortium focused on identifying sources of variability between TMB estimates from different panels by comparing the panel-based estimates to results calculated from whole exome sequencing.
To achieve this, the project relied on use of publicly available data from the Cancer Genome Atlas, a joint effort of NCI and the National Human Genome Research Institute. Based on the results, guidelines were developed on TMB reporting and conditions of analytic validation.
As part of the consortium, MoCha Lab staff contributed to analysis and interpretation of data, which is presented in the Friends publication on establishing guidelines for the harmonization of TMB. Find the paper here. A second publication is underway, detailing results from multiple clinical laboratories which sequenced control samples and clinical samples and compared a whole exome sequencing "gold standard" performed in the MoCha Lab.
Identification and Validation of ctDNA Quality Control Materials
The NCI and FNLCR are partners in the ctDNA Quality Control Materials (QCM) project, a Foundation for the National Institutes of Health (FNIH) effort focused on the development of national ctDNA standards, facilitating production of quality control materials that could be candidates for FDA clearance. The MoCha Lab has been instrumental in leading Phase I of the project, which is an evaluation of the performance of the QCM in 4 core laboratories.
The goal of the FNIH QCM project is to enhance confidence in ctDNA biomarker assay results, enabling better clinical applications, informed decisions on appropriate therapy, and improved regulatory evaluation.
The MoCha Lab also participates in the International Liquid Biopsy Standardization Alliance

(ISLA) Collaborative Community, a collection of organizations that exchange information to further their common goal of harmonization in the broader adoption of liquid biopsy and use of shared reference standards in oncology.
See this publication

for more information on the ctDNA Quality Control Materials collaboration.
National Clinical Laboratory Network (NCLN)
Watch CDP's Dr. Tracy Lively's Meet the Experts presentation

on the NCLN, from the American Association for Cancer Research Annual Meeting 2021.
The MoCha Lab is the genomics hub for of the National Clinical Lab Network (NCLN). The NCLN was established to support the Experimental Therapeutics Clinical Trials Network by providing centralized, robust assays following harmonized and locked SOPs that are analytically validated and performed in CLIA accredited facilities. The NCLN utilizes a centralized specimen biorepository and the support of centralized data reporting.
For more information, please visit the CTEP page on the NCLN.
NCI's Patient-Derived Model Repository (PDMR)
The MoCha Lab provides histology, pathology and genomic support for the NCI PDMR program. This program is generating PDM with a goal of providing up to 1,000 clinically and genomically annotated early passage models to serve as a resource for public-private partnerships and academic drug discovery efforts.
For more information, please visit the DCTD page on PDMR.