Last Updated: 08/16/21
The Cancer Immune Monitoring and Analysis Centers (CIMAC) — Cancer Immunologic Data Commons (CIDC) Network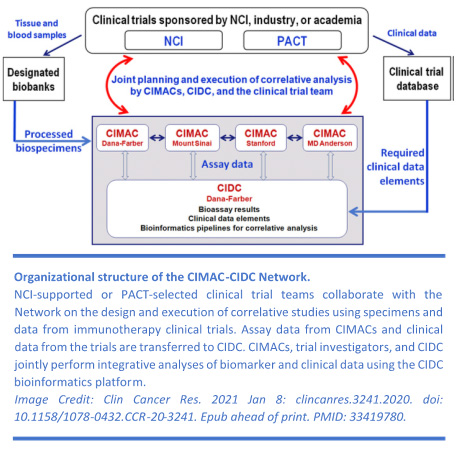 The CDP and the Cancer Therapy Evaluation Program (CTEP) jointly launched the CIMAC-CIDC Network

as a Cancer Moonshot℠ initiative, funded through NCI Cooperative Agreements (U24) awarded in September 2017. This Network was established to address the critical importance of improving management of cancer patients receiving immunotherapy by identifying biomarkers for optimizing immunotherapeutic strategies.
In response to RFA-CA-17-005, four multidisciplinary academic centers were awarded cooperative agreement funding to form the CIMACs. The CIMACs are:
Dana-Farber Cancer Institute
Icahn School of Medicine at Mount Sinai
MD Anderson Cancer Center
Stanford University
In response to RFA-CA-17-006, the Dana-Farber Cancer Institute was awarded cooperative agreement funding to establish the CIDC. The CIDC functions as coordinating center and provides a bioinformatics platform for integrative analysis of biomarker and clinical data across studies. The CIMACs work collaboratively with the CIDC to enable data standardization and develop uniform analysis pipelines across the network's studies.
The Network provides state-of-the-art analyses for genomic, phenotypic, and functional characterization of patient responses in early phase clinical trials using analytically validated and standardized platforms.
CIMAC-CIDC Network investigators and the clinical investigators for NCI-sponsored trials work together on correlative analyses within cancer immunotherapy trials, linking biomarker data from trial biospecimens with clinical data from those trials.
The CIMAC-CIDC Network also formed a five-year public-private research collaboration with the Partnership for Accelerating Cancer Therapies

(PACT), also a Cancer Moonshot℠ initiative (launched in 2018), to provide the laboratory assays and database functions for the PACT-sponsored clinical trials. PACT is managed by the Foundation for the National Institutes of Health (FNIH), and focuses on identifying, developing and validating robust biomarkers to further novel immunotherapy treatments.
Recent Publications
A Randomized Trial of Combined PD-L1 and CTLA-4 Inhibition with Targeted Low-Dose or Hypofractionated Radiation for Patients with Metastatic Colorectal Cancer.
Monjazeb AM, Giobbie-Hurder A, Lako A, Thrash EM, Brennick RC, Kao KZ, Manuszak C, Gentzler RD, Tesfaye A, Jabbour SK, Alese OB, Rahma OE, Cleary JM, Sharon E, Mamon HJ, Cho M, Streicher H, Chen HX, Ahmed MM, Mariño-Enríquez A, Kim-Schulze S, Gnjatic S, Maverakis E, Marusina AI, Merleev AA, Severgnini M, Pfaff KL, Lindsay J, Weirather JL, Ranasinghe S, Spektor A, Rodig SJ, Hodi SF, Schoenfeld JD.
Clin Cancer Res. 2021 May 1;27(9):2470-2480. doi: 10.1158/1078-0432.CCR-20-4632. Epub 2021 Feb 10. PMID: 33568343; PMCID: PMC8102320.
Network for biomarker immunoprofiling for cancer immunotherapy: Cancer Immune Monitoring and Analysis Centers and Cancer Immunologic Data Commons (CIMAC-CIDC).
Chen HX, Song M, Maecker HT, Gnjatic S, Patton D, Lee JJ, Adam SJ, Moravec R, Liu XS, Cerami E, Lindsay J, Hodi FS, Wu C, Wistuba II, Al-Atrash G, Bernatchez C, Bendall SC, Hewitt SM, Sharon E, Streicher H, Enos RA, Bowman MD, Tatard-Leitman VM, Sanchez-Espiridion B, Ranasinghe S, Pichavant M, Del Valle DM, Yu J, Janssens S, Peterson-Klaus J, Rowe C, Bongers G, Jenq RR, Chang CC, Abrams JS, Mooney M, Doroshow JH, Harris LN, Thurin M.
Clin Cancer Res. 2021 Jan 8:clincanres.3241.2020. doi: 10.1158/1078-0432.CCR-20-3241. Epub ahead of print. PMID: 33419780.
Cross-site concordance evaluation of tumor DNA and RNA sequencing platforms for the CIMAC-CIDC network.
Zeng Z, Fu J, Cibulskis C, Jhaveri A, Gumbs C, Das B, Sanchez-Espiridion B, Janssens S, Taing L, Wang J, Lindsay J, Vilimas T, Zhang J, Tokheim C, Das Sahu A, Jiang P, Yan C, Duose DY, Cerami E, Chen L, Cohen D, Chen QR, Enos RA, Huang X, Lee JJ, Liu Y, Neuberg DS, Nguyen C, Patterson C, Sarkar S, Shukla SA, Tang M, Tsuji J, Uduman M, Wang X, Weirather JL, Yu J, Yu J, Zhang J, Zhang J, Meerzaman D, Thurin M, Futreal PA, Karlovich C, Gabriel SB, Wistuba II, Liu XS, Wu C.
Clin Cancer Res. 2020 Dec 15:clincanres.3251.2020. doi: 10.1158/1078-0432.CCR-20-3251. Epub ahead of print. PMID: 33323402.